Cornwall wave energy hub gets subsidy increase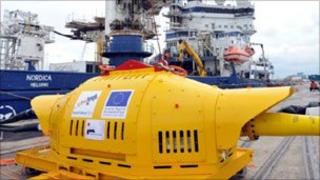 Managers of a wave energy project in Cornwall have welcomed government plans to more than double the subsidy to wave and tidal energy projects.
Wave Hub, off the coast of Hayle, is a grid-connected test site for wave energy technology.
Energy Secretary Chris Huhne said wave and tidal energy projects "desperately need help to reach the market".
Claire Gibson, general manager at Wave Hub, said it would boost the development of wave energy machines.
She said the proposal "helps close the economic viability gap, which remains the biggest stumbling block to the commercial deployment of wave devices".
St Ives Liberal Democrat MP Andrew George said the support would "significantly increase commercial interest in the project".
The £42m wave hub, an electrical "socket" for wave energy machines on the sea surface, was lowered to the seabed in 2010.
It has four berths available, but none are being used.
Its first customer will be Warwick-based Ocean Power Technologies which is expected to deploy its Power Buoy devices in 2012.