Cornwall Council looks at closing 114 public toilets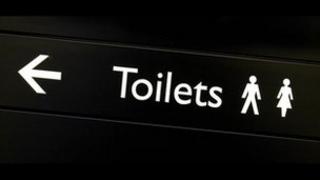 More than 100 public lavatories could be closed in proposals announced by Cornwall Council.
When it became a unitary authority, in April 2009, the council accumulated about 200 public conveniences.
The council said some of the toilets cost many thousands of pounds a year to run.
The "Public Conveniences Informal Working Group" has been tasked with saving £1.1m over four years from the public toilet budget.
The committee's plan is to stop paying for the cleaning and operation of 114 toilets throughout Cornwall.
Councillor Fred Greenslade, the chairman of the working group, said: "This is a document for consideration by the cabinet. We have visited different parts of the county. The cost of operating some of them is high.
"We've got 247 toilets. We could pick any 100 and someone will be angry. This is the best option at the moment."
'Very petty'
The group said the money saved would be diverted as grants to town and parish councils to take over the running of the remaining 134 toilets.
The committee members believe a parish or town council could run toilets in their community much cheaper than a central authority.
The council said three toilets in Fowey currently cost £38,000 a year. Five toilets in Newquay totalled £64,873.
James Ortiz, the strategic partnership team leader at Cornwall Council, said: "Cleaning costs are high. They make up about 40% of the budget for toilets.
"You have also got things like water costs, electricity and business rates. Our business rates are just under £200,000 for all the toilets."
One of the toilets listed for possible closure is at Harbour Road, Porthleven, with an annual bill of £5,632.
The area's county councillor, Andrew Wallis, said: "I think it's very petty, for the amount of money, to close this toilet. It's right next to the beach with a high usage. Even in the winter it is used.
"It's not just local residents who use these toilets, it's visitors too. I think it's unfair to ask the town and parish council to pick up the tab."
The recommendations from the working group will be discussed at the Cornwall Council's Cabinet meeting on 16 November.