Derriford's new linear accelerator radiotherapy machine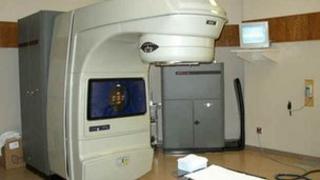 A new radiotherapy machine is to be installed at Derriford Hospital in Plymouth.
Plymouth Hospital NHS Trust said the addition of a third Linear accelerator (LINAC) would allow the hospital to treat more patients than before.
A trust spokesperson said it was part of the trust's continuing commitment to developing world-class cancer services.
Plans to build a fourth bunker to house a CyberKnife system were postponed last year due to budget constraints.
'Quality of care'
A LINAC uses electricity to form a stream of fast-moving subatomic particles. This creates high-energy radiation that is used to shrink tumours and treat many types of cancer.
Dr Phil Hughes, consultant radiologist and assistant medical director, said the trust regretted not being able to move forward with the CyberKnife, but it would continue to monitor the situation.
"We are committed to improving the quality of care and the radiotherapy services for our cancer patients," he said.
"Having explored all of the options available to us we have made the decision to continue with the replacement of our three current treatment machines."
Cyberknife delivers focused radiation therapy where it is needed, minimising any damage to surrounding tissue.