Church rebuilds 1960s singer's life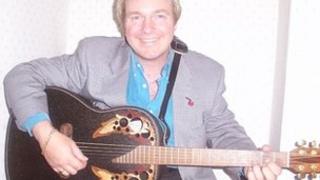 From his early teens John Gaughan decided that he wanted to be a singer/songwriter and aim for the very top in the world of popular music.
By the time he was 19 years old he had achieved that goal.
Mr Gaughan was rubbing shoulders with the most successful writers and publishers of the day.
He was also singing with the top stars of the 1960s, as part of the band Herman's Hermits.
Mr Gaughan said: "I was working with Billy J Kramer and Gerry Marsden and in America with Peter Noone and the Bee Gees."
But there was one problem, as he will tell an audience at Redruth's Penventon Park Hotel on Friday 28th October.
"My life had really changed, but the only thing that remained constant was that I was an alcoholic. I had the money, and most of the time the alcohol was free."
Mr Gaughan said he felt a huge "emptiness inside that was increasingly being satisfied by alcohol".
"On the surface it looked absolutely fantastic. Behind the scenes I had to have a quarter bottle of vodka. I was walking a fine line between not having too much alcohol in my body and having just enough to stop me from shaking on stage."
Eventually his dependence on alcohol took over and within a few years he was a broken man, "in body, soul and spirit".
Mr Gaughan said: "I thought I could control it. I would give up drinking for a day, apart from the shakes. I went to my doctor and he said I would just have to give up drinking. I tried clinics, I tried hospitals. But nothing seemed to help. The desire was still there.
"Finally I couldn't cope. My marriage failed and my father died. That just left me devastated."
Mr Gaughan eventually reached a point of total desperation and tried to end it all by throwing himself from the top window of a three storey building.
Life changing moment
He said: "I thought I had no hope and no future. So I tried to take my own life. But I landed on my feet. I broke all the bones in my feet. Bones in my back were crushed. Yet my spinal chord remained intact."
During the following months many people called to see him.
Mr Gaughan said: "I was sat their drinking one night, watching the television, thinking I'm just going to lose everything again. But words came back to me about the time my Grandma told me about God. So I went to church that night. Nobody spoke to me, and I came away disappointed and went back home and sat there drinking.
"That night a man came to see me and said you don't need to be like that, there is a way out. As he was walking passed my flat he said he felt the need to come and knock on my door and tell me about Jesus. He invited me to his church. I went, and that night my life started to change."
For the past two decades John said he had been given songs by the Lord and his heart's desire was "to continue to touch people's lives through testimony and song".
He said his broken bones healed and he has had "total deliverance from his acute alcoholism".
Mr Gaughan now travels around the UK singing and sharing his life story.