Playwright Rod Tinson's anger over 'Disneyfied' play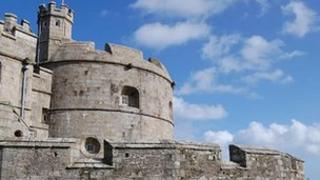 A Cornish playwright has cancelled a performance of his World War II play after he refused to remove "offending" references to Nazis, Jews and the invasion of Poland.
Rod Tinson's play was due to be performed at Pendennis Castle, Falmouth to an "adults-only" audience.
Mr Tinson said English Heritage was trying to create a "Disneyfied" version of history after insisting on changes.
Events manager Charlie Fear said the cancellation was "unfortunate".
The play was originally approved to be performed over four nights with scenes focusing on different periods in the Tudor castle's history, including its World War II role.
The scenes in question included a young Polish Jew who arrives in Britain as a refugee voicing fears about what would happen to his relatives in occupied Europe.
Different writer
Mr Tinson said: "They said it was inappropriate for an English Heritage audience. What version of history are they trying to illustrate at this place?
"I cannot see why it would be deemed offensive, it was intended for adults, many of whom remember the war or know people who were involved in it.
"I cannot understand it. I refused to change it because it would have changed the whole storyline."
Ms Fear said: "It's unfortunate that we've had to pull Mr Tinson's play and we will reimburse him for his time and effort.
"This was our first time working with Mr Tinson and we were unable to agree on the right approach for our event.
"The tours will still go ahead but the script is by a different writer, one with whom we've worked in the past."
A spokesperson for English Heritage said: "English Heritage does not 'sanitise history' as anyone who looks at our guidebooks and the interpretation at the sites in our care will see.
"Visitors to Pendennis Castle get a comprehensive history of the site. It's just that Mr Tinson's play was not what we had in mind for our Halloween ghost tour."