BBC Introducing: Catching up with Rosie Vanier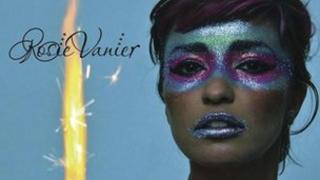 Rosie Vanier became well-known locally as the lead vocalist in Rosie and the Goldbug.
The band gathered a large faithful following, touring Europe with 1980s hit-maker Cyndi Lauper.
The band broke up in 2009, but Rosie has since embarked on a solo career.
Rosie said after a "heartbreaking" break-up of the band she had "fallen back in love with making music".
She has just released a brand new solo EP, called Black Cats and Black Stars, and is heading out on tour.
Rosie said: "I have had a few messages from people saying they can't wait to see me again. So I am getting feelings of deja vu because I am going back to venues I played with the band a few years back.
"I am really enjoying it. I am totally excited about what I am doing at the moment."
In her days with Rosie and the Goldbug, Rosie gained approval nationally, as well as several fans.
The Independent on Sunday said: "Rosie Vanier has a voice that leaps from sugary pop to operatic whoops, her ivories chiming through a repertoire raging from the turbulent to the serene."
Rosie Vanier was a guest on BBC Introducing with David White as her new EP was released as a download on Friday 28 October.
She said: "I think my solo sound is different. The tracks on the EP are quirky pop.
"I wouldn't rule out the next thing I do being a folk album, or a grunge album.
"That's the great thing about being a solo act, you don't have to be restrained to your sound."
You 'Stoled' My Guy is one of the tracks on the album.
Rosie said: "It's not a typo. When I was at Launceston College, we used to refer to people stealing other people's boyfriends as 'you stoled him', so I ended up writing a song about it.
"It was Launceston College lingo that I took across the Atlantic and recorded in New York."