Stithians reservoir low water level 'no great concern'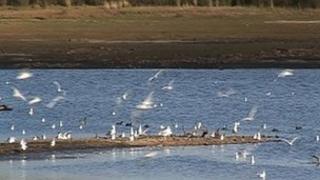 The level of water in Stithians reservoir in Cornwall has alarmed local people.
The reservoir near Redruth, which was built in 1965, has the capacity to hold 5,205 million litres, but is currently only 37% full.
Some parts of the reservoir are totally dry and regular visitors claim they have never seen levels so low.
South West Water said it was "nothing to worry about" because water was being transferred to other reservoirs.
But local resident Al Rideout said, despite recent heavy rain, it was still possible at parts of the reservoir to walk from one side to the other.
"Even though we've had quite a lot of rainfall over the past few days, it'll take quite a lot more to fill up this reservoir," he said.
Windsurfer Mark Rudd said: "I've never seen the water level so low - it's almost like there's a hole in the dam."
South West Water (SWW) said there were 17 reservoirs in the region and overall storage was a "healthy 51%".
Spokesman Neil Whiter said Stithians operated in conjunction with a number of other reservoirs, with water being transferred from one part to another to "even out the risks" between customers.
"It's not of great concern because it is the beginning of the winter," Mr Whiter added.