Cornwall hazelnut hunt to identify dormice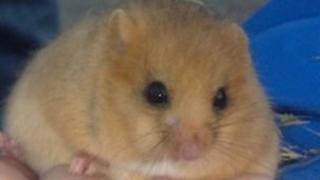 A "nut hunt" has been organised at a Cornish woodland to find out if an endangered mammal is living there.
The Gaia Trust, a conservation charity, wants to establish if there are dormice in woods at Treraven Farm, Wadebridge.
The organisation, which said "nibbled" hazelnuts would be a good indicator the tiny animal is present, has arranged for a licensed dormouse handler to help volunteers.
The trust has put a variety of dormouse nest boxes and tubes in the woodland.
It said discovering any signs of activity would help identify the best places to put more nest boxes before the breeding season.
To conserve energy dormice hibernate when food is scarce and can spend up to three-quarters of their lives asleep.
In Britain, they are mainly found in the south of England, although they are also present in a few scattered locations in the Lake District and mid-Wales.