Steam railway company out of Launceston cycle trail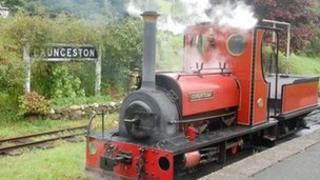 Launceston steam railway has pulled out of negotiations with Cornwall Council for the development of a cycle trail from the town to nearby Elgoskerry.
The plans also included a two-mile extension of the town's steam railway line.
The railway's directors claimed the authority had gone back on what was originally agreed.
The council said it had failed to reach agreement over the land required but that the cycleway would go ahead.
Nigel Bowman, from the steam railway, said it had spent nearly £100,000 on the track for the proposed extension.
"Originally the deal was we would provide enough land to get the trail to New Mills, and the council would provide enough land to get the railway to Egloskerry.
"So far they have completely failed in all their land negotiations and things are not looking good."
In a statement Cornwall Council said the cycleway did not need to use any of the railway bed land owned by the steam railway, because an alternative route had been identified.
The local authority said negotiations were in hand with the landowners. The statement went on to say funding for the cycle trail was in place.