Living with: Obsessive compulsive disorder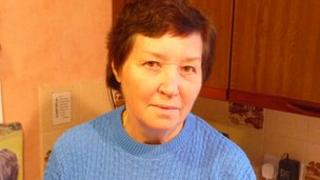 A woman from Cornwall who has suffered from obsessive compulsive disorder (OCD) for more than 40 years has called for more support from the NHS.
Joyce Salter, who lives near Liskeard, said there is a widespread misunderstanding about OCD.
The condition involves obsessive thoughts and compulsive behaviour.
Mrs Salter said she always made her former husband have a bath when he returned from work because of her fear of contamination.
"He would take his clothes off in the bath, very carefully so he didn't drop a scrap of dandruff or anything on the carpet.
"He would have to have a bath and wash his hair before he could have his tea.
"It eventually got so bad that we both found it easier for him to have his tea in the bath."
Mental Health phone in
On Wednesday 2 November, BBC Radio Cornwall's Laurence Reed hosted a debate and phone in about OCD.
A team of experts were on hand to talk about the condition, and answer questions.
If you missed the broadcast it is available on the BBC iplayer until Wednesday 9 November.
According to the Cornwall Partnership NHS Foundation Trust, approximately one in every 50 people suffer from OCD at some point in their lives.
Some people with OCD will spend about an hour a day engaged in obsessive compulsive thinking and behaviour. For others, the condition can completely take over their life.
OCD has three main parts:
Thoughts that make you anxious - your obsessions
The anxiety you feel
The things you do to reduce your anxiety - your compulsions
Obsessions can be based on thoughts or pictures you can not get out of your mind, no matter how hard you try; or you may worry that you have caused someone harm or have left the gas on.
The exact cause of OCD is unknown.
Seeking treatment
Lots of people with OCD can be reluctant to report their symptoms because they are embarrassed about their condition. Often people who have OCD will go to great lengths to disguise their compulsive behaviour from family and friends.
Treatment
There are a range of treatments which can help you to manage your OCD. Both therapeutic support, medication or a combination of the two have been shown to be beneficial.
A GP or a mental health professional works with the patient to decide which suits them best.
There is also a selection of medication which has been shown to help. This includes some anti depressants that are designed to control serotonin levels.
The first medication is often tried for three months and if that does not work there are other medications which can be tried.
GPs or a mental health professionals work with patients until a solution is found.