New lung testing in Cornwall 'proving successful'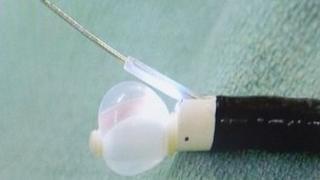 Doctors in Cornwall believe a new technique for taking samples from patients thought to have lung cancer is proving highly successful.
A tube is put down the patient's throat into the lungs so samples can be taken for diagnosis.
Until now patients from Cornwall had to travel to Plymouth's Derriford Hospital for surgical biopsies.
Doctor Stephen Iles, a respiratory consultant, said it was "a big step forward".
Dr Iles, who works at the Royal Cornwall Hospital in Truro, said: "We can look deep down inside the chest and find where the problem is, the tumour, potentially. Then we can take a small sample.
"That's the really critical thing, that we can take a piece of tissue or a sample, that is really the main step in getting the diagnosis."
Dr Iles believes the new procedure, called Endobronchial Ultrasound (EBUS) will be less stressful for a patient.
He said: "Previously we had to send people to Derriford Hospital and they'd have to have a procedure which involved opening up their chest.
"We're stopping people having to have surgery just to get a diagnosis."
Terry Parker, from Newquay, who was one of the first to have the procedure at the Royal Cornwall Hospital, said: "I was really scared about having it done.
"But I was only in for a day and although I wasn't asleep I only remember them starting to put the camera down and bringing it back out again. It was just brilliant.
"They did it all in about 20 minutes. I was euphoric afterwards and was telling people that a trip to the dentist was worse."
The team at the Cornish hospital will now be included in a new commissioning guide of high quality lung cancer services from the UK Lung Cancer Coalition aimed at showcasing good practice.