St Erth residents attack BIH heliport proposal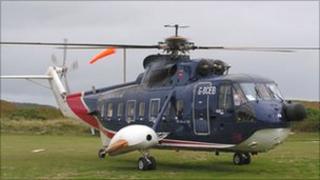 A plan by British International Helicopters (BIH) to move its heliport to a west Cornwall village has been condemned at a public meeting.
Some 300 hundred villagers attended the meeting in St Erth near Penzance on Thursday night, urging the company to drop its proposed move.
The residents claim a heliport in the village would cause noise and pollution.
The helicopter company insists it will take steps to reduce disruption.
'Bonkers to me'
Local people have long feared the heliport would destroy the peace of St Erth.
One of the villagers, John Damon, said at the meeting: "Helicopters are noisy and create pollution and how anyone could apply for a proposal to put a heliport in the middle of a residential area is bonkers to me, beyond comprehension."
The helicopter company has said it will hold a test flight so local people can see and hear for themselves the impact on St Erth. But no date has been set.
Nigel Mann, from BIH, said: "The sort of noise levels for the majority of people, and I know that people will receive ground noise as well as the take-off and departure, but for the majority of people it will be very short term and similar to an HGV passing on the road."
BIH has said it will meet people individually who live nearest the planned heliport site in an attempt to set their minds at rest.
In October Cornwall Council approved plans to build a supermarket on the site of the current BIH terminal in Penzance, west Cornwall.
BIH had previously said that in order to survive, it needed to sell the current heliport and use the proceeds from the deal to buy new aircraft and bid for new business.
Cornwall councillors will meet next month to consider the planning proposal for the heliport at St Erth.