Penzance school buys iPads for 900 pupils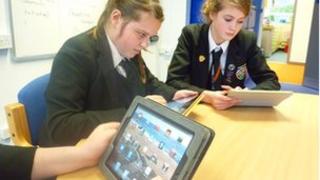 A Cornish academy has spent £100,000 on iPads for its pupils.
Mounts Bay Academy in Penzance is the first school in Cornwall to invest such an amount in computer tablets. It hopes it will save money in the long term.
All 900 pupils at the school will have one of the handheld computers, which are due to arrive at the school within the next fortnight.
Campaign group the Taxpayers' Alliance has argued the move does not offer "value for money".
The academy hopes the investment will save cash by eventually replacing text books.
Sara Davey, the principal of Mounts Bay Academy, said: "We think the iPads will be a way of making literacy, numeracy and all the other subjects so much more exciting.
"It is so much more relevant to the young people who are digital natives, as opposed to our generation who are digital immigrants."
Emma Boon from the Taxpayers' Alliance said: "We're all for technology, but let's just remember an iPad is a premium product with a premium price.
"You can get cheaper laptops which are more hard-wearing.
"If you think of the battering school equipment takes, do you think there's any chance that most of these iPads are going to make it through the next couple of years without some being broken or lost? That comes as an additional cost."