Resorts in Cornwall get money for regeneration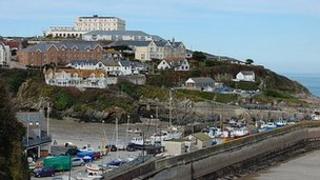 Seaside towns in Cornwall are to share £400,000 of funding to support businesses and regenerate resorts.
Bude, Hayle, Looe, Newquay, Par, Penzance, Perranporth, and St Agnes are to receive a share.
The money has been provided by the Department for Communities and Local Government and Cornwall Council.
Resorts had to suggest projects that would improve their area for visitors and local people, the local authority said.
Money on podcasts
The successful bids included a skateboard park in Penzance, promenade improvements in Looe and the regeneration of Newquay Harbour.
The exact amount that each project will receive is yet to be decided, the council added.
In Looe, the town council is also installing new signposts for tourists which it hopes will encourage more people to visit businesses in the west of the town.
Cornwall councillor Edwina Hannaford said the authority would spend the money on podcasts.
"There will be short audio clips which will be used on websites to allow people to walk a route without even being there.
"We are currently working with traders and historians.
"These projects would not happen without this funding," she added.
Issues of deprivation
To secure the money, the proposals had to offer value for money with support from the private and public sector, have a clear need and long-term goals, the council said.
The money was offered in recognition that seaside towns had particular economic challenges and issues of deprivation, a council spokesperson added.
The Department for Communities and Local Government and Cornwall Council each contributed £200,000.
The authority said that 12 towns in Cornwall had competed, with 18 bids, for a share of the money.