High-speed broadband scheme wins award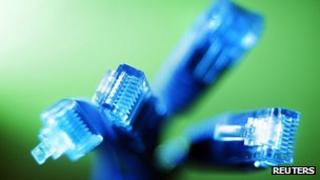 A plan to bring high-speed broadband to Cornwall has been recognised in the World Communication Awards.
The judges, including leading IT experts, named the £132m partnership as Project of the Year.
The broadband scheme is run by BT, European Regional Development Fund (ERDF) Convergence, Cornwall Council and Cornwall Development Company
Super-fast broadband is due to be available to about 90,000 Cornish homes and businesses within five months.
The judges said Superfast Cornwall was "a good example of a private company partnering with the public sector" to create "Europe's most ambitious rural deployment of super-fast broadband."
Nigel Ashcroft, Superfast Cornwall programme director for the Cornwall Development Company, said: "It is wonderful that the achievements of this pioneering partnership are being recognised on a world stage.
"It will provide a major boost for the future prosperity and wellbeing of Cornwall and the Isles of Scilly. A huge amount of work has already been undertaken by the partners to make this exciting initiative the envy of the world."
The World Communication Awards 2011 was held at the London Hilton on Monday.