Royal Cornwall Hospital investigates poor care claim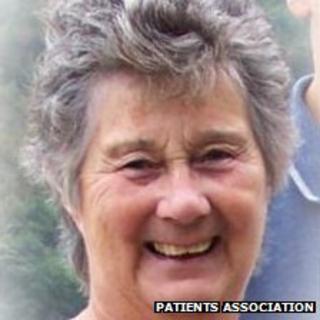 Claims of poor clinical practice, "incompetent" management and a lack of "joined-up" care are being investigated at the Royal Cornwall Hospital.
The death of Mavis Morris from Newquay at the hospital in Truro this summer is one of 16 cases highlighted by the Patients Association.
In its report, Mrs Morris's daughter, Julie Norfolk, says her mother's death was "completely unnecessary".
The hospital trust said it had only recently been made aware of the issues.
The accounts reported in the We've been listening, have you been learning? report "should shame everyone involved", the Patients Association chief executive Katherine Murphy said.
"It's simply not good enough for this report to be recognised and then business to carry on as usual," she said.
'Frustrating' communication
An investigation into Mrs Norfolk's complaint over her mother's care has begun and the Royal Cornwall Hospitals Trust's chief executive Lezli Boswell has offered to meet the family when the internal investigation has been completed.
She said every patient had a right to be treated with a professional standard of care.
Mrs Norfolk said after major cancer surgery in May her mother's consultant was "confident about the outcome".
Mrs Morris spent a week in the hospital's high dependency unit, where staff were "helpful and informative".
Mrs Norfolk said complications arose and her mother's condition began to deteriorate after she was transferred to Tolgus ward - a surgical recovery ward.
Mrs Norfolk, who lives in Derbyshire, said communicating with the ward was difficult.
"Getting through on the telephone was frustratingly impossible," she said.
"When someone did answer the information was inadequate, often inaccurate and inconsistent from one day to the next.
"The nursing staff also seemed to be ill-informed and I often had to explain mum's medical history to them."
Concerns raised by the family with the hospital about medication, exercise and diet were ignored by nursing staff, Mrs Norfolk said, and her mother's condition continued to deteriorate.
Mrs Morris died in June after developing pneumonia, which her daughter claims was as a result of "sub-standard medical and nursing care".
'Incredibly sorry'
"My mother wished to recover and tried to maintain a positive outlook even when she was very poorly," Mrs Norfolk said.
"The care that mum received leaves me feeling that poor clinical practice, incompetent management of information and appropriate prompt action based on that information, and a lack of holistic and joined-up care has led to my mother's completely unnecessary death."
Christine Rashleigh, director of nursing at the hospital trust, told BBC News: "We're incredibly sorry that Mrs Norfolk doesn't feel her mother received the care she would have expected from our hospital - and that we would expect her to receive.
"We have just received a complaint... and as such have started a thorough investigation as we do with all our complaints."
Ms Rashleigh said she could not comment on the specific details of the complaint until the investigation had been completed.