Drive to recruit on-call firefighters in rural Cornwall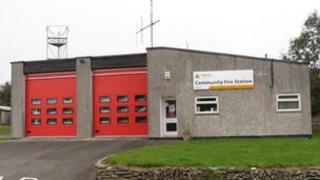 More men and women are needed as on-call firefighters in Cornwall, the fire service has said.
Although it currently has more than 400 on-call staff, Cornwall Fire and Rescue Service needs more people for rural parts of the county.
Fewer people, distance and work release problems makes it harder to recruit in these areas, it said.
On-call firefighters are needed in Camborne, Fowey, Launceston, Liskeard, Looe, Lostiwithiel and Polruan.
"We do have a few vacancies and it is more challenging to recruit in the rural areas," fire service spokeswoman Debbie Cornelius said.
"Where there's a smaller population, it can be harder to get to your fire station within the designated time of four minutes and if you're a farm worker or work in a smaller place it might be more difficult for an employer to release you."
On-call - or retained - firefighters normally have other jobs, but they respond to emergencies and are paid a salary.
Ms Cornelius said the training takes about four months to complete and is all done in Cornwall.
"Turnover is low - once people join, very few leave - so we're quite lucky in that respect," she said.
"Anyone over the age of 17 and a half who is physically fit can apply.
"The majority of people who apply are still male, but we're actively encouraging more women to think about it.
"It's a misconception that you have to be able to throw a man over your shoulder."
Applicants' suitability is assessed using national firefighter selection tests, she added.