Cornish charity ShelterBox caught in Turkish earthquake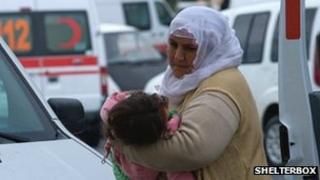 A Cornish disaster relief charity has been caught up in a 5.7 magnitude earthquake in Turkey - the second quake to hit the region in under three weeks.
Four ShelterBox team members were staying in the Turkish city of Van, providing aid following a more powerful quake which hit the region last month.
The team are safe and well, although seven people are known to have died.
ShelterBox's Ian Neal said he was "worried about the fate of other aid workers" whose hotel had collapsed.
"We are quite concerned. We've been working very closely the Turkish Red Crescent on this deployment and we believe some of our colleagues and people that we've been working with were staying in that hotel."
Frightening experience
Mr Neal said ShelterBox had been in the province distributing their winter emergency tents and equipment victims following the 7.2-magnitude earthquake which struck the south east of the country in last month.
"We were in the lobby of our hotel when the earthquake hit, we'd been feeling aftershocks running up to it, but nothing to the extent of what actually struck.
"It was quite frightening, everyone was immediately evacuated from the hotel and then a lot of the locals were straight on their phones checking on their families."
Mr Neal said that he expected the number of deaths could rise as emergency rescue services search for survivors.
"Apparently a lot of the buildings affected were unoccupied anyway due to structural damage in the first earthquake, but certainly there were a lot of people in the six storey hotel that collapsed."
Mr Neal said there were "plenty of ShelterBoxes on the ground at the moment and some in the pipeline, so they will continue to come into Van".
"We've been delivering boxes up until 05:00 GMT this morning to the Turkish search and rescue guys that are going to use the tents so they can go and do their shift and then come back and get a bit of rest."
Mr Neal said "if need grows" from this second earthquake then "we will certainly be shipping more from Helston as soon as possible".