World cycle man Sam Gambier returns to Cornwall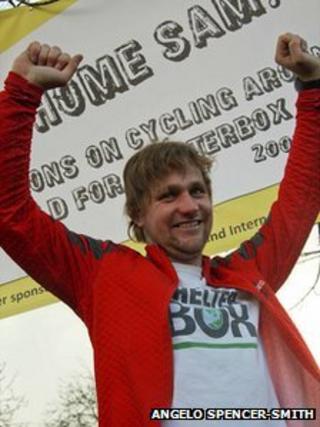 A Cornish man who cycled around the world and raised more than £10,000 for a local charity has returned home.
Sam Gambier, 25, from Praze-An-Beeble, near Camborne, has cycled 40,000 miles (64,373km) and passed through about 30 countries on five continents.
He started the cycle ride, which took two and a half years, in March 2009.
During the trip he was arrested in China and nearly horse whipped by a herd man in Mongolia, he said.
He travelled through Europe, Asia and Australia, then flew to Alaska where he cycled through North and South America.
'So much support'
Mr Gambier said: "In China I was detained by the police because I strayed unknowingly into Xi Xian which is a forbidden zone.
"I was told if I entered that they would think I was a spy."
Mr Gambier said he was also nearly horse whipped by a Mongolian herdsman who was drunk.
He said: "The best bits were always people, that's what made it easy. There was so much support from people inviting me in their homes."
Mr Gambier started planning his trip in 2007 and funded it working seven days a week in a care home, allowing himself £10 a day to live.
He had his bike custom-made in Somerset and was carrying about nine stone (57kg) of equipment with him, he said.
Mr Gambier raised money for the Cornwall-based disaster relief charity ShelterBox, which helps people affected by natural disasters throughout the world.