Call for homeless shelter in Newquay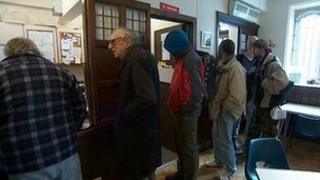 People who work with the homeless in Newquay have called for a night shelter to be opened after three rough sleepers died in the town within three weeks.
A 40-year-old rough sleeper died of pneumonia three weeks ago. A 21-year-old woman and a 27-year-old man have also recently been found dead.
Charity and church workers said eight homeless people were believed to have died in the town in a year.
Workers said a night shelter would help save lives.
Two church soup kitchens operate in the town, including one at the Newquay United Reform Church.
Alan Lee, of the church, said: "If there is a person in difficulty on the street and in danger health-wise, they could get off the street for the night, get into somewhere warm and then maybe move on in the daytime."