London 2012: College buys into Jemma Simpson's Olympic dream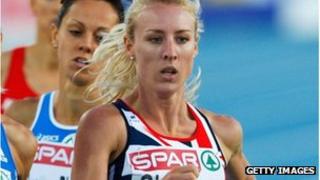 Cornwall College is trying to raise £13,000 to help fund an athlete in her 2012 London Olympic dream.
Jemma Simpson, 27, an 800m runner from Polgooth, is hoping to secure a place at the Games.
But she lost her UK Athletics funding amounting to £13,000, making costs such as medical expenses difficult.
Russell Lawrence, director of sport at the college, said: "This is a once in a lifetime opportunity and we can play a part in supporting her."
Mr Lawrence, who came up with the idea, said: "She will only use it if she needs it, it's going to be managed properly."
He said the money was being raised through fundraising events as well as donations from individuals and businesses.
The only reservations had come from the Simpson family who were aware of the tough economic times people faced, but Mr Lawrence said if "people want to contribute they will, if they didn't, they wouldn't".
Ms Simpson said it was "simply amazing" how people were supporting her.
She made the semi-finals of the 2007 and 2009 World Championships and ran at the Beijing Olympics and the last two Commonwealth Games.
But she had her UK Athletics funding, which supports top athletes, withdrawn in October.
She initially appealed the decision saying her situation had not been through "thorough analysis" but later withdrew it saying it would "impinge" on her Olympic preparation.
Mr Lawrence said he hoped any excess money could be used as a fund for talented athletes in the county.
"In Cornwall, if someone wants to compete in Gateshead then that in itself is a significant financial commitment and I don't want that to be a barrier," he added.
"How good would it be to see her on the start line and be able to say we helped? How bad would it be if she did not make it and we did nothing?"