Falmouth harbour dredging 'may start 2013' chancellor says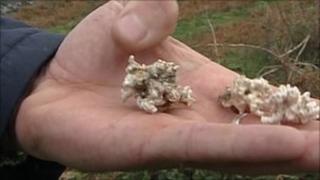 The dredging of Falmouth Harbour could begin in early 2013, Chancellor of the Exchequer George Osborne has said.
The £20m dredging plan is part of Falmouth Harbour Commissioners (FHC) masterplan to encourage cruise ships to use the port.
FHC has said the masterplan will help create up to 800 jobs for Falmouth.
Before the go-ahead is given, a scientific trial will have to establish that dredging will not damage protected seaweed beds.
Earlier this year, the plan had been blocked by the EU over environmental fears for the maerl [calcified seaweed] beds, which act as a nursery for commercial fish stocks.
Agreement reached
The beds only exists in a few coastal areas and can take thousands of years to form.
But FHC has said less than 2% of the maerl will be affected and it will be lifted before dredging and returned afterwards.
The chancellor's Autumn Statement said a scientific trial to resolve the environmental issues had been agreed by FHC and the Marine Management Organisation (MMO).
"A decision on the developer's marine licence application will follow if the trial succeeds," the chancellor said.
"If this application is then successful, it is anticipated that development could proceed in early 2013."