John O'Rourke jailed for life for Amanda Sorrell murder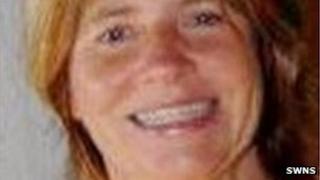 A man has been given a life sentence for bludgeoning his girlfriend to death at her home in Cornwall.
The body of Amanda Sorrell, 55, was found at her cottage in Pempwell, near Stoke Climsland, in September 2010.
Married John O'Rourke, 66, from Milton Abbot, near Tavistock in Devon, was convicted of murder after a trial at Truro Crown Court.
Judge Graham Cottle said O'Rourke had taken a life "in a most brutal way" and would serve at least 14 years in jail.
The court heard that O'Rourke tried to take his own life after attacking the Cornwall Council worker.
The reason for the murder remains a mystery.
Brian Champness, who knew the couple, said after the case: "They both seemed so close.
"I can't think of any explanation other than that he just flipped for some reason."
Ms Sorrell had been due to attend a meeting in Bodmin with colleagues at the Cornwall Registration Service, but when she did not arrive her concerned workmates called 999.
A colleague found O'Rourke lying naked next to a half-naked Ms Sorrell in a blood-soaked bedroom of the house, the court heard. O'Rourke had used a kitchen knife to try to kill himself.
O'Rourke had bludgeoned Ms Sorrell with two glass ornaments, leaving her "unrecognisable" from 27 injuries, the jury was told.
He was taken by air ambulance to Derriford Hospital in Plymouth and arrested there.
The court heard that O'Rourke, who lived with his mentally ill and housebound wife, could not remember attacking Ms Sorrell.
William Salatas, Ms Sorrell's youngest son, said outside court that the family was "glad" O'Rourke had been found guilty.
"We shall always be shocked and perplexed that this happened to such a lovely woman," he said.
A Cornwall Council spokeswoman said Ms Sorrell was "incredibly committed hardworking and very talented".
"Her calm, positive manner and sense of fairness meant that she was well respected amongst her friends, colleagues and customers."