Cornish helicopters assist in Afghanistan drugs seizure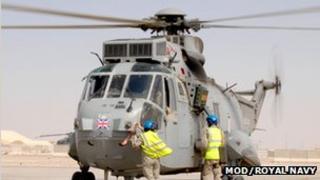 Naval aircrews from RNAS Culdrose in Cornwall have helped to seize more than £1.5m worth of drugs in Afghanistan.
Supply routes used by insurgents were tracked by the Culdrose-based 854 Squadron, who are based at Camp Bastian.
Sea King helicopters were used to track the vehicles that carried the drugs.
The vehicles had 840kg of dry opium and 11kg of crystal heroin onboard, a spokesperson added.
The squadron has been using cutting-edge radar equipment on its helicopters to track insurgents.
It worked with the RAF and US Marines to track and stop the vehicles.
Commander Pat Douglas, from Culdrose said: "Every single time a vehicle we've tracked is stopped and drugs or explosives are found by ground forces, we are making things safer for Afghan civilians and the forces there who are protecting them."
The Culdrose squadron, known as the Baggers, is flying up to 50 hours a week using specialist radar in a giant sack on the side of the helicopters, which follows the movements of insurgents on the ground.
The squadron has been in Afghanistan since May 2009.