West Cornwall Hospital campaigners 'hug' Penzance hospital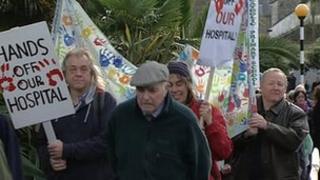 Campaigners have surrounded the West Cornwall Hospital in Penzance and given it a "hug" to show their support.
The Hands Around the Hospital demonstration was held following concerns about the hospital's future.
The future of the Cornish hospital is not in doubt, a health official has insisted.
Lezli Boswell, chief executive of the Royal Cornwall Hospitals Trust, said she wanted to work with the community to plan future services.
In October local people expressed anger at the trust's decision not to re-open one of the hospital's wards, although the trust said it was a temporary measure and a "clinical decision" which was best for patients.
'Maximising use'
In November it was revealed the casualty unit's late shift had been run by a nurse for a year after the trust failed to recruit a doctor.
It means some patients have to travel to the Royal Cornwall Hospital at Treliske for treatment.
A spokesman for the campaigners said: "Treliske is a great distance away which is extremely inconvenient for people who live in the hinterlands of the area, particularly for those with young children and the elderly.
"West Cornwall is our local hospital, that's what we deserve and that's what we are going to have."
Ms Boswell said she shared the community's desire for a "strong and healthy" hospital.
"I welcome the commitment and passion people in Cornwall have for our NHS and I want to work with the community as we develop our plans in the months and years ahead," she added.
The trust said it had invested about £5m to secure West Cornwall Hospital's future as an acute diagnostic and treatment centre and it remained committed to maximising its use for patients in the area.