Little Harbour children's hospice ready for families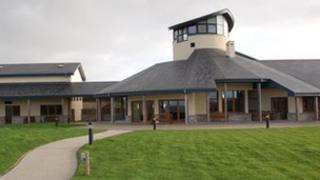 Cornwall's first children's hospice will open to families this week after a four-year campaign to raise £5m.
Little Harbour, in St Austell, will cater for six terminally-ill children and their families at a time.
The charity Children's Hospice South West started the campaign in September 2007 and reached its target in September 2011.
Little Harbour, which will benefit people in Cornwall and Plymouth, will take its first patients on Wednesday.
The charity also has hospices at Fremington in Devon and Wraxall in Somerset.
It is the first time children with terminal illnesses and their parents living in Cornwall and Plymouth will have a place of care, rest and respite on their doorstep.
Among the thousands of donations was £68,000 from one Cornish family.
Matt and Claire Way, from Newquay, have been fundraising since the death of their four-year-old son, Joe.
An additional £30,000 has been given to other charities.
Joe Way was never well enough to travel as far as the children's hospice in north Devon. He died at the Royal Cornwall Hospital.
'Absolutely thrilled'
Mr Way said: "I think to be in a setting you're used to, you come to know the staff. It won't take away the pain but it will be much more dignified, and a special memory."
Another parent welcoming the opening of the hospice is Louise Rail from Truro. Her five-year-old son, Curtis, has a rare genetic disorder.
She said: "It will be lovely just having it 35-40 minutes away, it will make a big difference."
Children's Hospice South West was founded in 1991 by Eddie and Jill Farwell after they experienced for themselves the urgent need for hospice care for children in the South West.
Their two eldest children, Katie and Tom, had life-limiting illnesses and they had to travel more than four hours, from their home in North Devon to Helen House in Oxford, then the country's only children's hospice.
Mr Farwell said: "I'm absolutely thrilled with the way things have turned out. It's a real tribute to people's generosity."
Little Bridge House, the South West's first children's hospice, opened its doors to families in 1995 .
The charity's second hospice, Charlton Farm, located just outside Bristol, opened in 2007.
In the same year the charity launched its Precious Lives Appeal to raise money to build Little Harbour in Cornwall.
BBC Radio Cornwall listeners also raised nearly £400,000 for the appeal.