Newquay Zoo home for black-necked crowned crane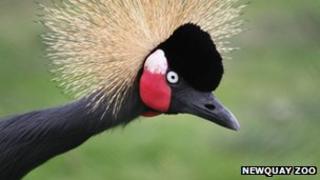 An endangered species of African crane has arrived at a zoo in Cornwall.
The black-necked crowned crane, which originates from west Africa, is being cared for at Newquay Zoo, where staff hope to start a breeding programme.
The species of crane has been upgraded to "vulnerable" on the International Union for Conservation of Nature (IUCN) Red List of Threatened Species.
Experts say the illegal trading of cranes for the pet industry in Africa has increased over the past 30 years.
John Meek, animal collection manager at Newquay Zoo, said: ''The species are more endangered than we originally thought. We hope that we will be able to breed the species. They look amazing and have settled well into their lakeside home."
Experts say other threats facing the black-necked crowned crane include the decline of their natural habitat.
Wetlands and grasslands in their native habitat have been devastated by natural forces such as drought, as well as by the human interference.
The IUCN list is used to assess the risk of extinction for a species.