ShelterBox receives a Thailand royal thank you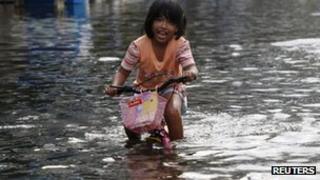 The Crown Prince of Thailand has personally thanked a Cornish charity for its work following recent floods.
ShelterBox members have been in the country for the past two months providing emergency shelter to families affected by the flooding in July.
Prince Vajiralongkorn summoned members of the charity to meet him to discuss their work in Thailand.
The Cornish charity, based in Helston, has distributed more than 1,000 tents and 2,500 mosquito nets in the country.
ShelterBox Response Team (SRT) member Scott Robinson said: "The Prince was very impressed with our fast distribution of tents and was grateful for the work that ShelterBox has been doing to help the country."
Makeshift shelters
The charity has been working mainly in Nonthaburi, the most densely populated and second largest province after Bangkok.
Since mid-October it has been cut off from civilisation due to the floodwaters not receding.
ShelterBox said families had been living along roadsides and on bridges, either in the back of trucks or in makeshift shelters.
Some have draped tarpaulin over tractors and farm equipment to escape the high waters.
The SRT members have also been working with the Thai Red Cross to set up tents at evacuation centres at schools across Nonthaburi.
Each ShelterBox contains blankets, water storage and filtration equipment, cooking utensils, a stove, a basic tool kit, a children's activity pack and other vital items.