Looe road could close for three months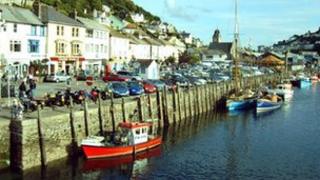 Plans to close a busy road in Cornwall for three months have angered local business owners.
Cornwall Council intends to shut the main route into Looe in early January to enable Barratt Homes to build a new housing estate.
The authority said the B3253 would not re-open until April.
A public meeting will be held later with local residents and council representatives to consider the impact of the plans.
Pauline Faulkner, who runs the Barbican Inn and the Bullers Arms in East Looe, said: "I think all businesses will be affected. All families trying to get their children to school are going to be badly affected.
"It may seem like a good time to cause disruption but for the locals and business owners here it's the worst time."
'Open for business'
Local councillor Edwina Hannaford said the new homes are needed but she is hoping visitors will not avoid the area during the road closure.
She said: "If there is absolutely no way round having this total closure, and I hope we can work round that, I want to make sure that Barratts and Cornwall Council let everyone know Looe is still open for business.
"Please don't avoid us."
A spokesman for Cornwall Council said the authority was aware of the concerns of local people and would be represented at this evening's meeting.
The public meeting takes place in the Guildhall in Looe from 18:30 GMT.