BBC Proms composer Graham Fitkin admits risky debut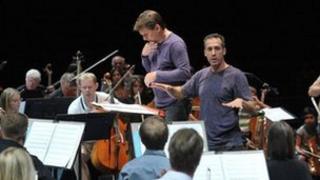 A Cornish composer has confessed it was risky letting 200 amateur musicians, many of them children, debut his work at the BBC Proms.
Graham Fitkin from Treen wrote PK, a piece about communication involving 300 musicians aged five to 86.
The BBC Concert Orchestra and musicians from Cornwall and London performed PK at the Royal Albert Hall in 2010.
Mr Fitkin who won a British Composer Award for PK this month said it was risky "but that's what life's about".
The composer wrote the 10-minute piece inspired by the communication history of Porthcurno, a small Cornish village.
PK: .--. -.-
Porthcurno, or PK as it was coded during its 100 years as the world's largest telegraph cable station, is where the telegraph cables that linked Britain with its Empire and other nations came ashore.
The piece was performed by the 300 musicians of the BBC Family Orchestra, a group made up of children and their parents from Cornwall and London and the BBC Concert Orchestra.
But PK harked back to communication in more ways than just inspiration.
P and K translate into Morse code as .--. and -.- and that code featured in the score represented by long and short notes.
Mr Fitkin said: "Fundamentally the piece is about communication. I wanted to use the fact that we had geographically disparate groups of musicians participating and make that the central theme rather than an obstacle.
"Therefore the pivotal history of Cornwall's telecommunications with London and the rest of the world seemed a good starting point."
The entire piece was communicated in a novel way too with 11 conductors on stage conducting each section of the orchestra and chorus.
Each conductor used hand signals to let the musicians know where they were in the music - there was not a piece of sheet music to be seen.
"That was the best way to use the potential of those particular musicians," said Mr Fitkin.
"Sheet music would have distracted us."
Mr Fitkin won the outreach composer award and the orchestra was certainly diverse with a family of six, a six-year-old girl who played what is thought to be the smallest cello used in a Proms performance and a family of four all who played the trombone.
The BBC Family Orchestra is in good company, with Mr Fitkin also having written concertos for famous American cellist Yo-Yo Ma and Sioned Williams, prinicpal harpist with the BBC Symphony Orchestra.
And its performance is due to remain a rare one as PK demands a lot of musicians.
Mr Fitkin said: "It requires a huge number, at least 150 and preferably nearer 200.
"This sort of thing is difficult to programme at the best of times. And these are not the best of times, so it requires a lot of forethought before we get another performance."