Proposed maintenance cuts concern ramblers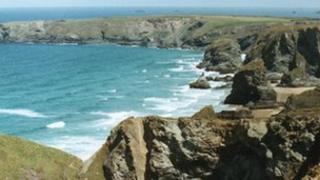 Proposed cuts to parks, open spaces and footpaths in Cornwall could deter tourists, a ramblers' group has warned.
Cornwall council is looking at reducing its budget for maintaining nearly 3,000 miles of footpaths, bridleways and byways.
But the Cornwall Ramblers Group said the county is "nearly totally dependent" on tourism and neglecting such areas could put visitors off.
A council spokesman said proposals for budget savings had to be examined.
About £40m of cuts are planned by the council with £1m to come from the environment service.
Graham Ronan, from the Cornwall Ramblers group, said: "We're nearly totally dependent now on visitor income.
"If they come once and get a map out and try to do a walk somewhere and they can't, then they're not going to come again."
Julian German, cabinet member for environment, said the council would "be looking at a number of options that have yet to be decided".
He said officers would be working with councillors and consulting on maintenance standards.