Scramblers spark concern for Bodmin Moor farmers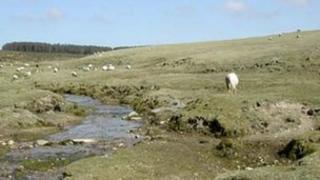 Off road bikers on Bodmin Moor are causing huge damage to sites of special scientific interest, police have said.
Officers have warned a force helicopter could be called in to monitor motorcyclists on protected parts of the moor.
Senior officers have already told owners their vehicles could be seized if they continue to scramble illegally.
Police have also spoken to concerned farmers who fear livestock may be killed if the action continues.
Insp Matt Longman, from Devon and Cornwall Police, said: "These are areas that are designated either because of their wildlife or heritage. Bikes are going up there causing damage that could be irreparable."
The force is working with farmers and landowners on Bodmin Moor to try to prevent moor scrambling taking place.
"Animals have their own routine of using the moor to find shelter and water," Insp Longman said.
"If you suddenly start putting noisy bikes through them you disrupt that pattern.
"The knock-on from that is that animals are less likely to fend for themselves and with the inclement weather conditions you could lose livestock up there."