Free parking call for Olympic torch visit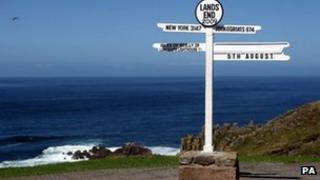 Traders in a south east Cornwall town are calling for free car parking when the Olympic torch goes through the county next May.
Cornwall Council said it had not decided whether car parks along the route from Land's End to Saltash should be free.
The Olympic Torch run begins at Land's End on 19 May and will visit towns and villages in the county.
The issue was raised at a meeting held by the Liskeard traders.
Ian Stevenson, the chairman of the Liskeard Traders' Association, raised parking during the torch run at the meeting.
No decision made
He said: "The Olympic torch is coming to our town, is the council going to give us free parking so we can welcome in people all over Cornwall to celebrate this?"
Several Cornish towns which are welcoming the torch have Cornwall Council-run car parks.
The clerk to Liskeard Town Council, Andrew Deacon, said: "From what I can gather there isn't going to be any relaxation in the car parking charges.
"This is a once in a lifetime opportunity. It's never going to happen again. Cornwall is going to kick off one of the greatest sporting events there is."
Cornwall Council's community transport manager Peter Moore said: "I'm aware there are discussions going on but I am certain no decision has yet been made.
"Do we want to make all car parking free on that day? Will it actually help? It may not be the best way to celebrate the event."
There will be a 70-day tour of the UK, starting in Cornwall, before the torch arrives at London's Olympic stadium for the opening ceremony on 27 July.