Water from rivers to boost reservoir levels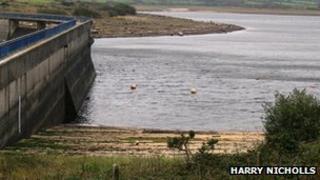 Millions of litres of water is being pumped into a Cornish reservoir from a nearby river.
Concerns were raised after Stithians Lake near Redruth dropped to a third of its capacity.
South West Water (SWW) had been transferring water to other reservoirs, but it is now topping Stithians up from the River Kennal.
Water is also being pumped into Colliford Lake on Bodmin Moor.
SWW said it was part of its normal programme to ensure there were no shortages next year.
Stretches of mud and tree stumps which had not been seen for nearly half a century appeared during the late summer at Stithians.
Local resident Harry Nicholls said: "I didn't even know the stumps were there until the water exposed them gradually.
"The water went down until it became clear there were several tree stumps, then the water went down below that level."
The reservoir near Redruth, which was built in 1965, has the capacity to hold 5,205,000 litres.
In a statement SWW said overall capacity in its reservoirs had doubled since 1976.
The company also said consumption in Cornwall and Devon had dropped by 12% since 1995.