Bodmin racist attack girl must wear tag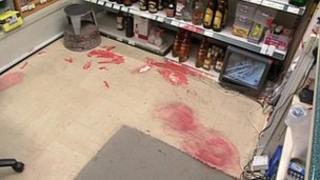 A 14-year-old girl who admitted a racist attack on a Cornish shopkeeper has been ordered to wear an electronic tag and been banned from the shop.
The girl, who cannot be named for legal reasons, admitted criminal damage, racially offensive language towards Muhammad Fiaz and a separate assault.
Bodmin Youth Court heard she threatened him at his Costcutter store in Bodmin.
She then returned to the shop with an open tin of red paint which she swung around the shop and threw at Mr Fiaz.
Mr Fiaz felt the attack was because of his ethnicity.
In the girl's defence, it was said she was not a racist but had acted in a childish and immature way.
The girl was was made the subject of a one-year rehabilitation order and a three-month curfew order and must wear an electronic tag.
She was also ordered not to contact Mr Fiaz and not to enter his premises for two years.
Her mother will pay Mr Fiaz and the victim of the separate assault case £125 compensation each.