Mebyon Kernow challenge coalition on Cornish assembly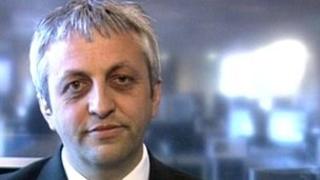 Ten years ago a petition with 50,000 signatures was presented to 10 Downing Street demanding a Cornish Assembly.
Marking the anniversary, Councillor Dick Cole, leader of Mebyon Kernow which campaigns for self-government, challenged the coalition government.
The former Labour government "ignored the declarations" and "refused to consider" the demands of Cornwall.
Mr Cole said the situation was now being "replicated by the present coalition government".
A group of Welsh Nationalist MPs have tabled a House of Commons motion saying the failure of the then Labour Government to act has created a "democratic deficit" in the county.
'Massive opposition'
Mr Cole, who authored the declaration and was part of the 2001 delegation to Downing Street, said: "Getting over 50,000 people to show their support for a Cornish Assembly in less than twenty months was a truly amazing achievement.
"The Liberal Democrats walked away from the campaign and, with the backing of the Labour Government, they pushed through the creation of a single unitary authority in the face of massive opposition.
"And now, we even have the Conservative-led coalition government further undermining democracy in Cornwall by pushing through plans for a Devon and Cornwall parliamentary constituency."
Mr Cole has called on David Cameron and Nick Clegg to meet a delegation from Cornwall, to allow detailed proposals for a Cornish Assembly to be developed and a referendum arranged for the near-future.
Cornwall Council, Mebyon Kernow representative Loveday Jenkins said "we need to be able to develop our own policy and our own ways of working that fit the Cornish geography, the Cornish environment and the Cornish people".
Liberal Democrat MP Dan Rogerson presented a Cornish 'breakaway' bill to the Parliament in Westminster - 'The Government of Cornwall Bill' on 14 July 2009.
The bill proposed a devolved Assembly for Cornwall, similar to the Welsh and Scottish set up.
Mr Rogerson said: "If we can demonstrate that we are able to use the power we've got more effectively and continue to bid for new powers then we will eventually be able to start to build up an assembly."