Cornish bird migrations 'best since 1960s'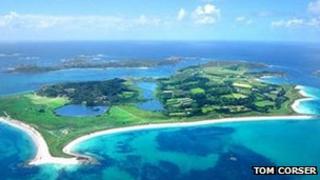 Bird watchers in Cornwall and the Isles of Scilly have reported a one of the best years for bird migrations since the 1960s.
Experts said a combination of warm weather, hurricanes and wind direction caused changes to migrating patterns.
According to the RSPB, the Scillies' unique position was a "crossroads for migration" allowing birds from a number of different locations to end up there.
It added that it had been "incredibly good autumn for rare birds".
RSPB conservation officer Paul St Pierre said a combination of hurricanes and warm weather had brought some birds from the United States.
He added that high-pressure systems had caused the direction of the wind to bring in species such as the desert wheatear from central Asia and dusky warblers from south-east Asia.
'Reverse migration'
Asked why some birds ended up far away from usual migration spots, Mr St Pierre said: "In the autumn, we often get something called 'drift migrations'.
"Birds that have come across from the continent and are making their way from northern Europe down to Africa get blown across runs of easterly winds.
"We then have something called 'reverse migration' where birds are travelling from northern Asia down to south-east Asia.
"Rather than going into south-east Asia, they can almost get 180 degrees wrong and go into western Europe.
"Another type of migration that is taking place is 'storm riding' where birds make these amazing journeys across the Atlantic off the back of these hurricanes that come out of the Caribbean.
"If these storms track low enough, and they come through south-west England, then the Scilly Isles is the ideal location for birds to land."