Newquay mayor's fire warning over empty properties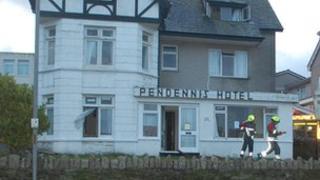 The mayor of Newquay has called for owners of empty properties to act more responsibly after three fires this year in buildings occupied by squatters.
On Wednesday a fire broke out at the former Pendennis Hotel, which locals claimed was being used by squatters.
Mayor Andy Hannan said he was worried too many buildings were left empty or neglected while awaiting development.
A Cornwall Council survey highlighted nine Newquay properties which could be at risk of attracting squatters.
Mr Hannan said: "[Owners] really should have more contact with their properties. A lot of these developers are not in the town.
"There should be more regular checks on these properties to make sure they are secure.
"I think the developers and owners need to take a lot more responsibility over their properties."
Newquay fire station watch manager Sean Taylor said: "Ultimately these properties are death traps, not only for the people staying there but also if we had to attend an incident, where firefighters have to go in and rescue people.
"There can be holes in the floors and ceilings. If you're walking through there and you don't know your way around you could fall three, maybe four storeys."
Cornwall Council Environmental Health department said it works with the owners of empty properties to try to ensure they are kept secure and if the landlord fails to respond to repeated requests, it does have the powers to secure the building and send the bill to the owner.