Cornwall hospital's trust plan meetings 'poorly attended'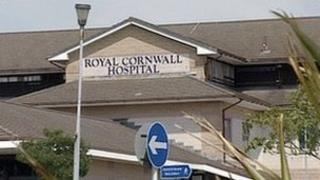 Just over 100 people attended 14 county wide public meetings to discuss the Royal Cornwall Hospital Trust's plan to become a foundation trust.
The government wants NHS trusts to become foundation status, by 2014.
However, no-one turned up at the St Austell, Tremough or the Camborne Redruth meetings.
Although just 117 people turned up to the meetings, the trust said it had received more than 1,600 formal responses.
Labour councillor Jude Robinson, who is a health campaigner, said: "It's probably a sign that no one is that turned on by public meetings. But thousands of people I understand have already signed up to become trust members."
In a statement, the trust said it was "making good progress in its journey to become an NHS foundation trust".
It said it had decided to increase the size of its board of governors by four, including an additional public governor in east Cornwall, and one solely for the Isles of Scilly.
The move to a foundation trust would give NHS managers freedom to manage their own budgets.
In August, in a leaked memo one of the trust's own directors said that it faced a challenge of "Everest proportions" if it was to succeed in its bid.
The hospital said its trust status would give it more freedom to meet local needs and become more answerable to the community.
The trust's board will meet later to discuss the public meeting attendance.