St Mary's post office changes hands after 40 years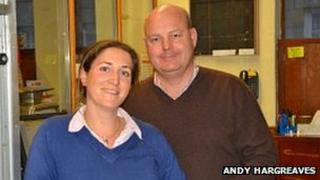 The only post office on the Isles of Scilly has been taken over by a new family for the first time in 40 years.
Islanders Lindsey and Euan Roger have taken over at the post office on St Mary's from Susan Badcock, who has retired from the role.
The couple took the keys to the building just as the Christmas rush began.
With three-hour queues in their first week, Mrs Roger said it had been "a baptism by fire".
The recently appointed sub-post mistress worked under Mrs Badcock for seven years, which she said had given her "a bit of advanced knowledge for running the office".
However, she said it was husband Euan's first time and he had "no knowledge at all".
'Change ahead'
Mrs Roger added: "I love the community, I love helping people and I think it suits me, so when the opportunity arose, it seemed like my ideal option."
During the busy festive period, Mrs Roger said there was "an awful lot to learn".
Much of the post arrives by helicopter and is then taken to the post office and distributed to the other islands by boat.
"You get a huge variety of every type of transaction going, from ordinary small packets, to special deliveries, to money transactions," Mrs Roger said.
She added that she was aware that diversification was "on the cards" for the post office and with that "will come change, unfortunately".
She said: "We will be respectful to the post office and to the building and to the community as much as we can."