Hospital meal companions appeal launched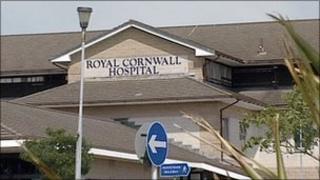 The Royal Cornwall Hospital at Treliske wants more volunteers to help seriously ill patients eat their food.
Nurses say meal time companions are important for boosting patients' spirits as well as making sure they eat and drink properly.
Earlier this year the NHS ombudsman criticised some hospitals nationally for failing to look after the elderly who were struggling with basic skills.
Treliske says the companions have been helping there for the past three years.
Frazer Underwood, consultant nurse for older people at the hospital, said: "We're seeing more and more people needing extra assistance at meal times.
"The meal time companions are very important.
"We need to make the meal times special so we can maximise the benefits of good nutrition and hydration at these times of the day."
Gwen Beckett,77, is a meal time companion at the Royal Cornwall Hospital in Truro.
She said: "We assist and help patients to eat their food and we chat.
"I think people like to chat. They might want to talk about how frightened they are.
"Sometimes they cry, sometimes they just need someone to say they are there. It is extremely rewarding."
Mr Underwood said the volunteers made a "massive difference" for patients at the Royal Cornwall Hospital.
He added the companions were vital in helping hard-pressed nurses at busy times.