Catholic and Anglican worshippers share Padstow church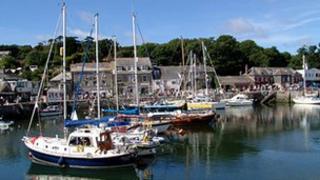 A church service will be held in Padstow on Monday with members of the Catholic and Anglican communities worshipping together.
Under a legally binding sharing agreement, the Catholic community will now be able to worship together with their Anglican counterparts.
Both Bishop Tim Thornton and the Catholic Bishop Christopher Budd will attend the service at St Petroc's.
In the past the Catholic congregation has used the church in the summer.
Both communities have agreed for the arrangement to become permanent.
Father Chris Malkinson said: "The building is for both communities. It's just so groundbreaking and lovely for Padstow and so lovely for me to be working closely with Father Keith."
Roman Catholic priest Father Keith Mitchell said: "Most are being pretty favourable.
"Obviously there's been sadness about leaving a building where people have been baptised and married.
"But on the whole the congregation is fully behind it."