Isles of Scilly wildlife suffering from low rainfall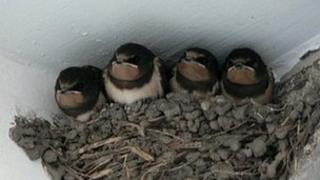 A lack of rainfall on the Isles of Scilly over the past year has badly affected several species, a wildlife charity has said.
Water levels in all the islands' pools have dropped, endangering the numbers of baby swallows and eels.
Levels toward the end of the summer were "almost classed as a drought", the Isles of Scilly Wildlife Trust said.
It fears if the water table is not replenished it will have "real negative effects on all the wildlife".
Trust spokesperson Jaclyn Pearson said: "The end of the summer was dry, so species like the swallows have not done so well.
"They were getting ready to migrate back down to Africa and they hadn't been able to fledge their young because they couldn't make their nests out of the mud as they need water and muddy areas to do that."
Ms Pearson said when she was looking at the nests to see how many young had fledged, "it was clear that the nests were falling off because there wasn't enough mud".
She said eels were another species that had "struggled to survive" with water levels dropping and pools "drying out".
"Eels can survive quite a long time in mud, they don't need a lot of oxygen to survive, or they will go back down to the sea and migrate back up again.
"However, in the pools on higher ground, where the water had completely dried out there were dire consequences."
The Isles of Scilly Wildlife Trust said it will monitor water levels carefully over the winter, and look at ways of reducing the impact of low rainfall on the islands' pools in the future.