Looe route may not close for three months, traders told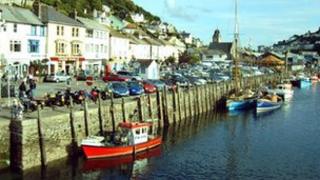 A busy route into a south east Cornwall town may not now have to close for three months while sewage pipe work is carried out.
Traders in Looe had complained about the plans at a public meeting when Barratt Homes said it wanted to work on the B3253.
An alternative route is now under consideration.
Originally Cornwall Council said the busy road would close from January until April 2012.
The local authority had intended to shut the main route into Looe to enable Barratt Homes to build a new housing estate.
But traders had warned that businesses would be affected and emergency services would have to take a 15 minute diversion to reach a large residential area.
A spokesperson for Barratt Homes said it was looking at an alternative line for the sewage pipes in the hope of substantially reducing the time the road would need to be closed.
Armand Toms, Cornwall Councillor for the area, said: "They are in negotiations with the landowners to see if this is possible.
"A deal hasn't been done yet so the local community are keeping the pressure on."