Cardinham woods cope with disease and flood aftermath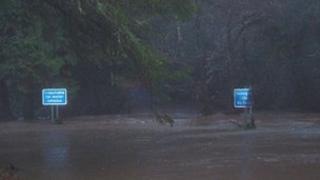 The Forestry Commission is having to fell around 11,000 diseased Japanese Larch trees in woods in Cornwall.
If they are not removed, the commission said the disease phytophthora ramorum could spread from the site at Cardinham, near Bodmin.
The woods are still recovering after floods 13 months ago.
The commission said the disease could cause extensive damage and mortality to trees and other plants across the United Kingdom.
Toby Bowen-Scott, who is in charge of the tree felling operation in the Cornish woods, said: "In a normal day we'll fell 120 to 160 tonnes of woods a day, which could be five or six lorry loads of timber going out of the woods each day from one machine."
Flood aftermath
Work has also been going on for several months to repair damage done by the November 2010 floods.
The woods' cafe, which was badly damaged by the floods, reopened in March.
The old bridge over a tributary of the River Fowey in Cardinham Woods near Bodmin, which could not cope with the flood water just over a year ago, has now been replaced by one with three times its span.