Casual postal workers in Truro wait for payment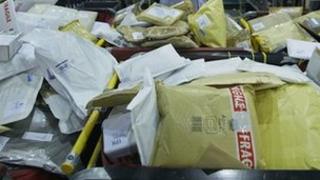 Temporary postal workers in Truro claim they have not been paid properly.
The staff are all employed by an agency owned by Royal Mail.
The temporary staff say they are meant to be paid weekly but some of the workers claim they have only received a partial wage in three weeks.
Royal Mail said a "small minority" of staff had not been paid on time but "the correct amount have now been paid this week". It added those still concerned should contact line managers.
One temporary worker, Martin Orchard, said: "I have only been paid once, and I think it should have been more than that. I have not received any pay slips, and no way of checking what they have paid me is correct. I am angry."
'Small minority'
The workers from Truro claim they have not been able to discuss their wage problems with anyone from the agency.
Another temporary worker said: "I will have to rely on my family for hand outs until I get paid, because I can't afford to pay for anything."
Tony Lorton, who represents the Communication Workers Union in Cornwall, said: "My understanding is that around 20 to 30 people in Truro are affected."
In a statement Royal Mail said: "The small minority of our temporary workers who were regrettably not paid on time or by the correct amount have now been paid this week. We are encouraging anyone who believes that there are still issues relating to their pay to contact their line manager immediately."