Camelford A39 to close in January for more roadworks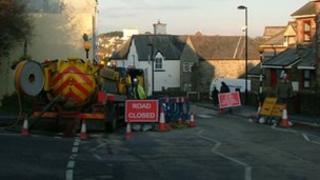 A main road through a Cornish town that was closed for two months in the autumn will be shut again in January.
Fore Street in Camelford will be closed to traffic during the day while resurfacing work is carried out, Cornwall Council has said.
Between 3 October and 9 December, the road was closed to traffic for sewer repair works.
Cornwall Council said it had tried to minimise disruption to the town and its traders.
Susan Munger, owner of a pet shop in the town, said: "The last two months, have affected businesses in Camelford. It's been very quiet."
'Open for business'
Bonnie Grills, from Camelford Town Council, said: "The roadworks are essential to the infrastructure of the town, but we can't emphasis it enough that the town will be open for business."
A Cornwall Council spokesperson said: "The decision to reopen the road for the Christmas period was made as a direct result of concerns raised by the traders.
"A daytime only closure will be used in January while the surfacing works are carried out to help keep disruption to a minimum."
South West Water were behind the sewer repair works in the town.
In November, a spokesperson said the company was "doing everything it could to get trade into the town".