Tiredness 'main factor' in crashes on Cornwall's roads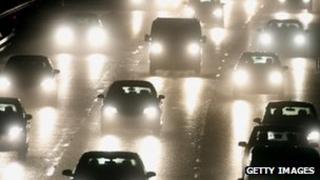 Drivers in Cornwall are being warned to take tiredness more seriously before setting out on the road.
The Cornwall Road Safety Partnership said twice as many crashes had tiredness as a contributory factor in Cornwall than the rest of the country.
The group believes it is because of Cornwall's geographical location.
The road safety charity Brake claims that one in every five motorway crashes is caused by drivers falling asleep at the wheel.
Paula Wellings, from the local road safety partnership, said: "It is devastating to lose somebody through any collision but when the need for sleep is one of the main reasons why somebody crashed it just seems so sad because it is rectifiable."
Mrs Wellings said Cornwall was often the final destination at the end of a long journey, which added to the high number of crashes in the county.
The government advises drivers to plan a 15-minute break every two hours of their journey in which they should drink a caffeinated drink and have a nap.
In August, police reported the number of motorists found to be over the legal alcohol limit after a crash had more than doubled in Devon and Cornwall.
The figures were released by the police following a month-long campaign targeting drinking and driving in June.