Church awaits solar planning outcome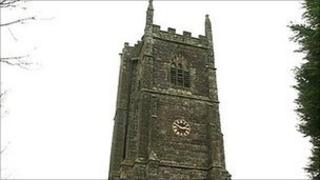 A pioneering environmental project could see 22 solar panels fitted on to a grade two listed church in Cornwall.
The scheme for the medieval building at St Newlyn East has already won the backing of English Heritage.
Cornwall Council planners are expected to make a final decision later.
David Scott, one of those spearheading the scheme, said surplus money generated by the panels "would be put back into the community".
Mr Scott said: "It's great to be involved as a church doing something for the environment.
"The whole principle of this is not only to raise some money for our electric bills which are desperately high but also to look at our whole carbon footprint."
The photovoltaic panels capture the sun's energy using cells. They do not need direct sunlight to work so are still able to generate some electricity on cloudy days.
St Newlyn East Church is a listed building so the Diocese of Truro and English Heritage have already looked closely at the proposal and given their approval.
Mr Scott said if council planners give the go ahead, St Newlyn East church would become the first medieval Anglican church to be fitted with the panels.