St Austell fire started by new year Chinese lantern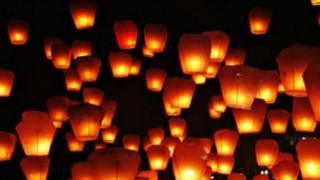 A Chinese lantern set off to welcome the new year started a fire in St Austell, Cornwall Fire Service has said.
The alarm was raised shortly after midnight when neighbours spotted a fire in Trenarren View, Boscoppa.
The lantern set fire to a garden storage shed, but it was extinguished before it spread to a nearby house.
The fire service said the incident highlighted how dangerous the lanterns can be, despite looking attractive.
"It was very fortunate that someone had noticed that this lantern had landed, starting a fire," a brigade spokesman said.
"Had it gone undetected then the fire would have spread to the house."
Firefighters used ventilation equipment to clear smoke from the house. No-one was hurt.